A young woman was asked to remove her tampon and others were told to "squat and cough" during strip-searches by Australian police, a watchdog has found.
A law enforcement review released on Tuesday explored complaints made by several women who were searched by officers at music festivals and outside a casino between 2018 and 2019.
The report's authors are urging authorities to apologise for the "humiliating" strip searches, which all took place in Sydney.
New South Wales Police said it would consider the Law Enforcement Conduct Commission's findings.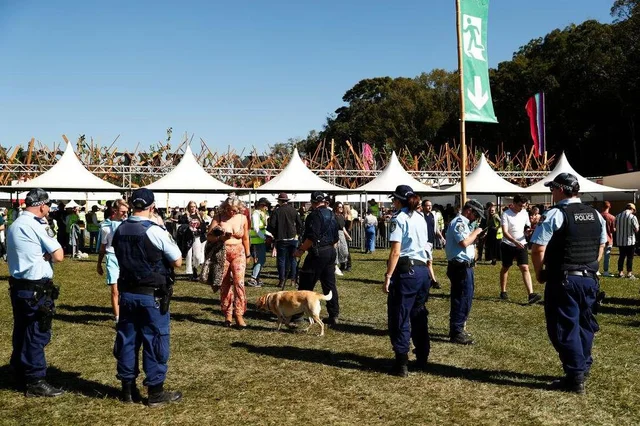 In one incident, in January 2019, police strip-searched two women outside a casino, asking one of them to remove her tampon.
An investigation of the complaint found there had been a "lack of clarity for frontline officers regarding the lawfulness of such a request", the report states.
Another case involved a performer at the Secret Garden festival, who was ordered to pull down her underwear and bend over.
She was then spoken to unprofessionally and laughed at by male officers, according to the review.
No illicit drugs were found on her during the search, which the young woman's parents described as "degrading" in a letter to NSW Premier Gladys Berejiklian.
In another incident, in March 2019, a woman was made to cough and squat during Hidden Music Festival.
The woman's mother, who made the complaint, said her daughter was not offered proper privacy and was detained for more than an hour.
She was then forced to leave the event and told she could not attend another festival for six months, despite not being in possession of any illicit drugs.
The review found that in many cases, police admitted ignorance of what was permitted during a strip-search, despite the introduction of a new instruction manual last August.
The Person Search Manual states officers "may, amongst other things, request a person squat, lift their breasts, part their buttock cheeks or turn their body".
But the commission's report said its investigations highlighted "the number of significant recurring issues for the NSW police force in relation to strip searches".
Under Australian law, officers can only carry out such searches if "the seriousness and urgency of the circumstances" means it is necessary to do so.
The search must be conducted in the least invasive way possible and it is illegal to search genital areas or any body cavities.
In the case of minors, a parent or guardian must be present, unless it is necessary to conduct an immediate search to protect the person or prevent the destruction of evidence.
An updated version of the manual is reportedly being prepared.
*story by The Evening Standard