A Confederate war memorial that outlived the student protest group that tried to get it removed from campus has been targeted with graffiti for the fourth time in two years.
"Love is understanding why others hate. Love [is greater than] Hate. BLM," a vandal had written in black paint on the University of North Carolina-Chapel Hill monument, known as "Silent Sam," when a Daily Tar Heel photographer found it Friday.
Though no one has taken credit for the Black Lives Matter-themed vandalism, a former member of the anti-statue Real Silent Sam Coalition, which is now defunct, praised the vandalism as an "effective" form of protest at a time when UNC activists worry that turnover and fatigue are killing their cause.
-snip-
After the monument to UNC alumni who fought for the South in the Civil War was first targeted with graffiti in July 2015, the university installed $3,600 security cameras.
The university then declared security footage unusable after a vandal attacked it a month later, spray-painting a reference to the disputed suicide of Sandra Bland, a black woman, in a Texas jail.
UNC opted not to investigate a third incident where someone blindfolded the statue because it wasn't a criminal act, but it did make an arrest for the next graffiti attack in 2016, a spokesperson for campus safety told The College Fix.
-snip-
The change in tactics has veteran activists worrying whether their movement is in capable hands.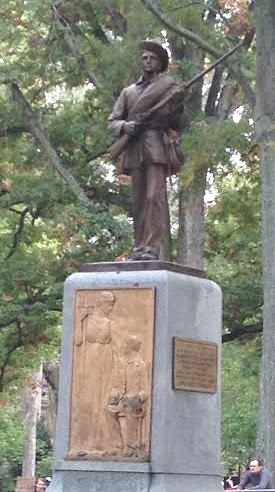 June Beshea, a 2016 UNC graduate and a former student activist affiliated with the Real Silent Sam Coalition, who uses "they" pronouns, said they want "physical acts" to remain a part of the campus activist arsenal.
"I don't think anything is going to get done unless you take it to the streets, honestly," Beshea told The Tar Heel.
"The most effective way to get people behind a movement is through physical acts," they said, specifically approving of "vandalism or blocking streets or whatever it is."
The problem with petitions is their effectiveness depends on "trust in that system" to see them as "valid," and "a lot of the issues we have aren't even seen as valid" by the UNC administration, Beshea added.
Yet even Beshea has favored soft, nonconfrontational forms of protest in the past. She organized a campus vigil for Sandra Bland, a week after the second Silent Sam vandalism, that featured nonwhite poets talking about "feeling unsafe."
Brodie did not respond immediately to an email from The Fix asking if he supported or was involved in the most recent vandalism of Silent Sam.
-snip-