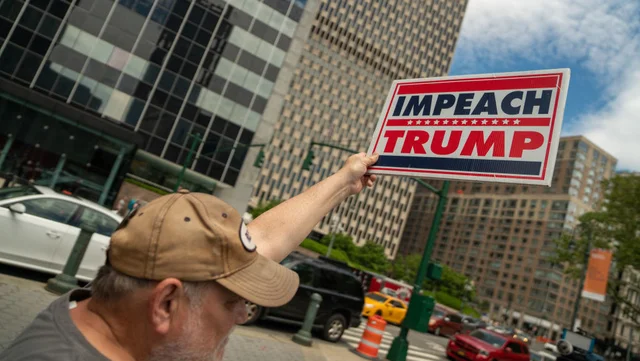 Activists held rallies across America on Saturday in support of impeachment against President Donald Trump.
There was just one problem: hardly anyone showed up.
Who organized the rallies?
The rallies were organized by far-left activist group MoveOn.org, which is pressuring congressional Democrats to begin impeachment proceedings against Trump.
"Events will be visible, family-friendly, public gatherings to demonstrate to our representatives that impeachment is the will of the people. Together, we will inform our communities about Trump's abuses and the process of impeachment, then make plans to convey our support for impeachment to our elected officials," the group said on its website.
MoveOn partnered with nearly two dozen groups, including the far-left Women's March, to host more than 130 protest events in cities across the country. Some politicians, including Rep. Rashida Tlaib (D-Minn.), even spoke at rallies.
How was the turnout?
If Saturday's protests proved anything, it's that American are not enthusiastic about the progressive vision for impeaching Trump.
Pictures across social media revealed that just dozens of activists showed up at most rallies, while just a few hundred showed up in larger, more liberal cities.
Nice turnout at the #ImpeachTrump rally in Detroit this afternoon. Soon to be joined by @RashidaTlaib! https://t.co/m4loqRUVat

— Democracy for America (@DFAaction) 1560627602.0
How did Trump respond?
Trump responded to the protests on Sunday by mocking the low turnout at the rallies.
"Yesterday was the Radical Left Democrats big Impeachment day. They worked so hard to make it something really big and special but had one problem – almost nobody showed up," Trump said on Twitter.
*story by The Blaze