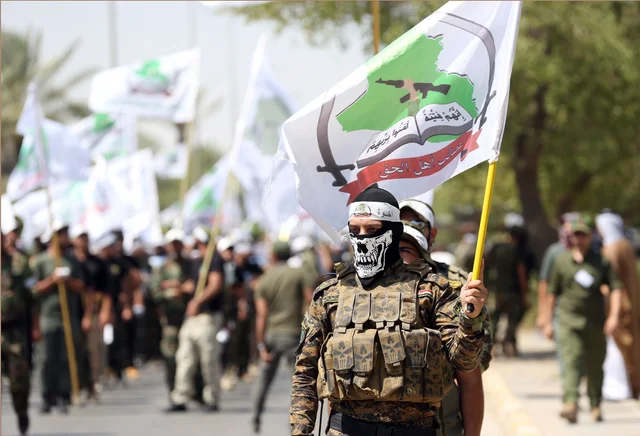 BAGHDAD — Hashem Al Mayahi didn't always despise America. When the U.S. first invaded Iraq to rid the country of Saddam Hussein in 2003, he hoped regime change would usher in a brighter future.
"I thought they'd turn Iraq into a paradise after they rid us of Saddam," he recalled.
But as Baghdad descended into violence and chaos, and American abuses rose to the surface, he began mobilizing his neighborhood against the occupation, first as part of the Mahdi army, an insurgency led by popular Shiite cleric Moqtada Sadr, and later its splinter group, Asaib Ahl Al-Haq. Asaib grew and gained notoriety for targeting American troops, claiming responsibility for over 6,000 such attacks.
Now, with the U.S. and Iran in a standoff that's threatening to spill into armed conflict in Iraq, he's ready to do it again. In an exclusive interview with VICE News, Al Mayahi said Asaib was ready to hit U.S. targets in Iraq using the same insurgent tactics it deployed during the height of American occupation.
"Ninety percent, there will be a war," the 46-year-old told VICE News from his home in a Baghdad neighborhood. "When America attacks Iran, we will not be silent."
Al Mayahi is a senior military commander of Asaib, which is now technically part of Iraq's security apparatus after its contributions in the war against ISIS and operates under the prime minister's command. But the militia and its sister groups maintain close ties with Tehran. And as relations between the U.S. and Iran continue to deteriorate, Asaib and militias like it could factor as major players in any conflict.
"When America attacks Iran, we will not be silent"
(snip)
U.S. Secretary of State Mike Pompeo, second from right, talks with Charge D'affaires at the U.S. Embassy in Baghdad Joey Hood, second from right, upon arrival in Baghdad, Tuesday, May 7, 2019. (Mandel Ngan/Pool Photo via AP)
Such demands put Iraq's government in a tricky position: It can't afford to alienate the U.S., a key strategic partner, particularly in the defense and energy sector. But some officials in Baghdad chafe at Washington's pressure campaign, which they say overlooks the domestic circumstances that gave rise to these groups and continue to galvanize their support base.
"It's really not that simple," said one senior government official who spoke on condition of anonymity. "Each of these groups has its own track record, its own history, its own interests, its own self-protection requirements."
Asaib is closely aligned with Iran, to be sure: During the interview with VICE News, Al Mayahi openly talked about receiving salaries and military training from Iran, and didn't hesitate to proclaim loyalty to Iran's supreme leader, Ali Khamenei. He also admitted to having fought in Syria, where Iran has deployed its affiliates to prop up Bashar Assad's regime.
But some analysts argue that these groups' relationship with Iran is best described as one of converging interests rather than an outright proxy force.
"A lot of their day-to-day decision-making, whether it's the deployment of units or expansionist tendencies in certain governorates — for example, their decision to take over a particular infrastructure point or to expand economic activities — are driven by their own domestic strategic calculations," said Erica Gaston, a non-resident fellow at the New America Foundation.
Asaib is widely believed to have used its battlefield gains against ISIS to expand its interests, commandeering certain sectors of the economy and running mafia-like gangs who levy unofficial taxes, smuggle goods and extort businesses.
(snip)
"Today, whoever is against American interests is considered a terrorist," he said. "America is protecting its interests and we are protecting ours."
Some analysts say the Trump administration's aggressive stance toward the PMF could soon backfire.
"As long as the Americans are still here, it's impossible to put down our weapons"
"Countering these groups requires a very indirect approach," said Douglas Ollivant, a senior fellow at the New America Foundation who focuses on Iraq. "The PMF has very high domestic approval ratings for their role and sacrifices in the anti-ISIS fight. The only long-term antidote to their influence and strength is the strengthening of the Iraqi state."
Despite the PMF's sprawling political and economic influence, the government says it has made progress in bringing the PMF into the fold. When tensions began escalating in May, several senior PMF leaders, including Asaib's chief Qais Khazali, echoed the government's call for restraint.
But behind the scenes, Al Mayahi, the military commander, claims that Asaib is prepared to fight on against what he regards as American meddling in the region.
"The politicians want to calm the tensions," said Al Mayahi, the military commander. "As long as the Americans are still here, it's impossible to put down our weapons."
*see full story by Vice News