One Democratic presidential candidate stood out according to Google analytics in terms of who was searched the most, and she has already claimed the esteemed title once before.
Democratic Rep. Tulsi Gabbard of Hawaii dominated Google searches yet again for the second debate of the second pair of Democratic match-ups on Wednesday in Detroit, Michigan.
This is how America searched for the #DemDebate candidates tonight. https://t.co/I0WiP7r7bt https://t.co/L5G4WU3LAg

— GoogleTrends (@GoogleTrends)1564627750.0
Sen. Kamala Harris (D-Calif.) came in second in the metric, while Sen. Cory Booker (D-N.J.) came in third place.
Gabbard had also stunned many pundits when she topped the Google searchesfor one of the debates in the first pair of match-ups in Miami, Florida.
The official social media account of Google Trends posted a map which showed that Gabbard's name was most sought out in all 50 states.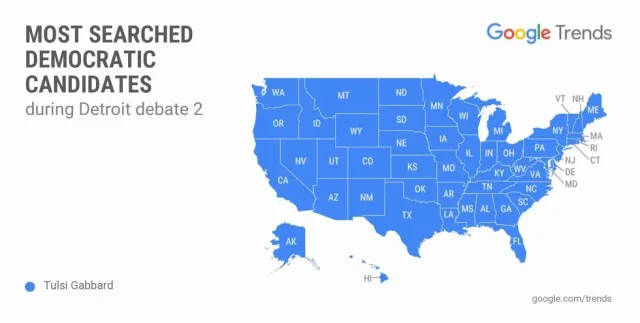 Former Vice President Joe Biden came in first among searches before the debate.
Gabbard took a decidedly anti-war turn during the debate, and at one point, accused President Donald Trump of supporting al-Qaeda. She also took aim at Harris over her prosecutorial record on minor drug offenses.
In the first match-up of the second set of debates, author and activist Marianne Williamson took the victory as most searched Google candidate.
*story by The Blaze