Still a leftist white kid was caught on camera telling a black officer, 'F*** you, pig!'
Amid Friday's worldwide climate strike, our Antifa heroes in Portland, Oregon, reportedly used the occasion to see what kind of violence and mayhem they could get away with.
According to independent conservative journalist Andy Ngo, a group of Antifa members — per usual dressed in black with masks and hoods — threw rocks and other projectiles at officers protecting an ICE facility.
But while the violent leftists have enjoyed anonymity and a relatively free pass to hurt anyone or anything they please, this incident turned out a little differently.
The below clip shows what happens when bullies experience aggression tossed back in their faces. (Content warning: Language):
After the "climate strike" protest in Portland yesterday, around 50 masked antifa militants descended near the loca… https://t.co/EHptzN7C2x

— Andy Ngo (@MrAndyNgo) 1569091474.0
It appears the officers who chased after the fleeing Antifa members represented both Portland Police and the Department of Homeland Security.
One leftist detractor in the clip was seen cursing out officers while — to his credit — not wearing a mask. The red-haired, white kid actually told a black officer, "F*** you, pig!"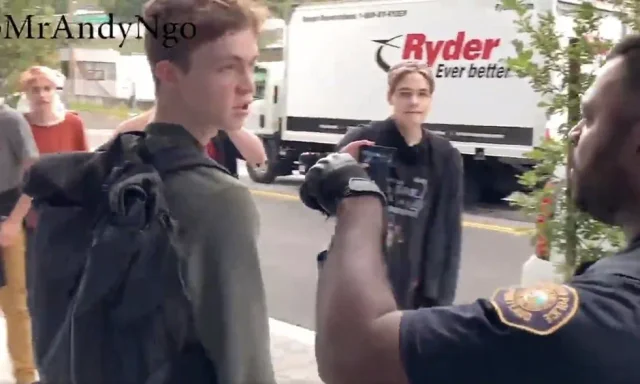 But when another officer ran up and told him to back up, the retreating kid protested, "Stop threatening me!"
Finally backed up to the street corner, he exclaimed from a safe distance, "DHS, you f***ing Gestapo piece of s**t!"
Another part of the clip showed a rather large Antifa member in handcuffs while officers searched him.
*story by The Blaze