What happened: Hundreds of pro-Iranian protesters on Tuesday

attempted to storm the US Embassy in Baghdad, scaling the walls and forcing the gates of the compound
Who protested:

The protesters were demonstrating against American airstrikes on an Iran-backed militia group in Iraq.
US involvement:

The US carried out five airstrikes in Iraq and Syria on Sunday, targeting facilities controlled by the group Kataib Hezbollah. At least 25 people were killed and 51 wounded in the strikes.
US Secretary of State Mike Pompeo spoke with Iraqi Prime Minister Adil Abdul-Mahdi and President Barham Salih separately by phone Tuesday, amid protests outside the US Embassy in Baghdad.
"The Secretary made clear the United States will protect and defend its people, who are there to support a sovereign and independent Iraq," said Pompeo's spokeswoman, Morgan Ortagus. "Both Abdul-Mahdi and Salih assured the Secretary that they took seriously their responsibility for and would guarantee the safety and security of US personnel and property."
Dramatic images of protesters attacking embassy
Hundreds of protesters have smashed windows, set fire to outbuildings and overturned vehicles outside the US Embassy in Baghdad.
US airstrikes earlier in the week, and Tuesday's embassy attack, have created new tensions between allies Washington and Baghdad, with Iraqi police and soldiers among those killed and wounded in the strikes.
They come at a time of unrest as mass protests across Iraq challenge the nation's precarious government.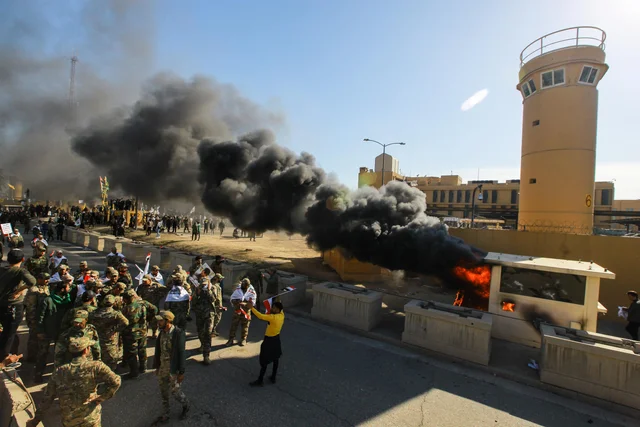 The US embassy in Baghdad is under lock down but has not been evacuated, an embassy spokesperson told CNN, as protests continue outside the compound located in city's Green Zone.
The US ambassador to Iraq, Matthew Tueller, is currently out on a previously scheduled vacation that started over a week ago, the spokesperson added.
Protesters have not breached the compound but parts of the walls were set on fire, a source affiliated with the embassy told CNN.
And after the strikes on Iraq and Syria, the protests were somewhat expected, the source said.
Restrictions on entry to the Green Zone, the secure area in Baghdad that surrounds the embassy outer perimeter, have been a little relaxed in recent years, the source added.
Why does Trump blame Iran for Baghdad embassy attack?
President Donald Trump confirmed Tuesday that US airstrikes on Sunday were a response to a recent attack that killed a US contractor.
In a tweet, he blamed Iran both for the contractor's death and Tuesday's attack on the embassy.
Similarly, Republican Arkansas Senator Tom Cotton said in a statement::
"When an Iran-backed militia killed an American in Iraq last week, it met with a firm response. Now our embassy in Baghdad — sovereign U.S. territory — has been attacked in yet another reckless escalation. As the President notes, Iran must be held responsible."
The US civilian contractor, who has not been named, was killed Friday in a rocket attack on a base near Kirkuk, Iraq, where US service members and civilian contractors were located.
K1 military base, which houses US troops in Kirkuk province in northern Baghdad, was attacked by several katyusha rockets, according to the Iraqi military.
Why these are no ordinary protesters
Iraqi PM calls on protesters to leave US embassy
Iraqi Prime Minister Adil Abdul-Mahdi has called on protesters to immediately leave the area around the US Embassy in Baghdad.
He said in a statement:
"Any aggression or harassment of foreign embassies and representations is an act that will be strictly prohibited by the security forces and will be punished by law with the most severe penalties."
Also on Tuesday, protesters held a funeral ceremony for members of Kataib Hezbollah who were killed in US strikes on Sunday.
While the funeral ceremony is an expression of "loyalty to the martyrs precious blood," demonstrations should be kept away from embassy buildings which the government has a responsibility to protest and secure, said Abdul-Mahdi.
A proxy war between the US and Iran just moved a step closer
For the Iraqi government, it's the stuff of nightmares: A proxy war between the United States and Iran in a country already wracked by protests, crippled by political paralysis and threatened by renewed terrorism.
But that war has come a step nearer with Sunday's US airstrikes against a pro-Iranian militia in Iraq.
The target of the US airstrikes is a group called Kataib Hezbollah, one of the most radical Shia militia in Iraq, with close links to the Iranian Revolutionary Guards. US officials hold it responsible for a growing number of rocket attacks against US facilities in Iraq. The death of a US contractor in one such attack last week was the last straw for the Trump administration.
Kataib Hezbollah is militantly anti-American. In 2017 and 2018, its fighters in Syria tried to attack the US-supported garrison at al-Tanf on the Iraqi border. Earlier this month it boasted of the failure of the "Saudi-American-Zionist axis of evil."
It has provided hundreds of fighters for the Assad regime in Syria — part of a broader Iranian effort to help stamp out the insurgency there — and is an important element in Iranian efforts to extend its influence through northern Iraq and into Syria. The US strikes, notably, were against targets along the main route between Iran and Syria.
*story by CNN News