To the naked eye it was just a pallet of 1.5 litre bottles of mineral water.
But a joint agency intelligence operation has allegedly revealed the bottles contained almost 160 litres of liquid methylamphetamine worth $80 million.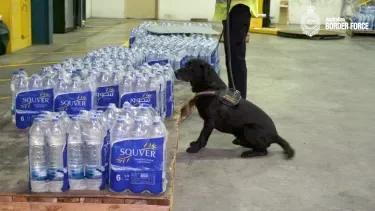 On Thursday two men were arrested over the alleged shipment, which originated from Iran and arrived in Australia earlier this month.
Border Force officers were waiting for its arrival after receiving intelligence from NSW Police investigators that an importation of illicit drugs was headed for Australian shores.
The consignment consisted of four 40-foot shipping containers, containing what was said to be mineral water. Disguised among 17 pallets of water officers allegedly discovered 99 bottles with liquid methamphetamine suspended inside.
NSW Police Drug and Firearms Squad Commander Detective Superintendent John Watson said the seizure was significant not only for the amount, but the dollar value.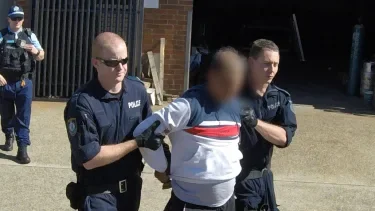 Had the seizure not been successful, he said, "we would have expected these drugs would have been on the street … within days."
Police monitored a controlled delivery under covert surveillance to a business warehouse address at Old Guildford in western Sydney on Thursday morning, assisted by federal police.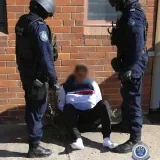 At the warehouse two men were allegedly seen unpacking the drugs before police entered. Majid Omrieh, 48, and Mehren Nemat, 33, were arrested and charged with importing and possessing a commercial quantity of a border controlled drug and supplying a prohibited drug.
Both were refused bail at Liverpool Local Court on Friday. They are yet to enter a formal plea.
They will next appear in court on June 17.
Detective Superintendent Watson alleged the men were the heads of a syndicate, dealing with organised crime groups in Iran to enable the commercial importation.
"We [allege] they had the needs and capability to organise the importation, to organise the facility and to extract the drugs within days," he said. "They chose to do it in the … lockdown state. They chose to seemingly do legitimate importations under the guise of importing water," he alleged.
AFP Detective Superintendent Ben McQuillan said importations of drugs like methylamphetamine from the Middle East had increased in recent years.
"The UN Office of Drugs and Crime has noticed there has been a spike in the production of methylamphetamine [and seizures] in Iran and neighbouring countries like Afghanistan," he said.
He said the AFP had a relationship with Iranian authorities, but said Iran was traditionally a "difficult country to forge relationships with" and "a lot of the time police led diplomacy is actually more effective."
Border Force NSW Acting Regional Commander Garry Low said officers used x-ray technology and detector dogs and were often looking for "needles in haystacks" when targeting large-scale importations.
It follows the seizure of 1 tonne of methylamphetamine from a yacht intercepted off the NSW coast near Lake Macquarie last weekend.
Police allege the yacht, known as the La Fayette, was loaded with border controlled drugs in waters around Norfolk Island. Two men were arrested aboard and have been charged with commercial importation of a drug.
*story by Sydney Morning Herald