Alexandria Ocasio-Cortez lit a fire on Twitter Monday by referring to Customs & Border Patrol officers being "physically and sexually threatening" towards her.
Quite a few mistook her tweet as making a claim about those she had just interacted with — as she and a few other representatives finally got to see inside a border patrol facility today.
However, what she was referring to was a news story she'd linked to earlier in the day.
If you had a picture in your head of CBP agents serving under President Donald "Mexicans Are Rapists" Trump being noble, brave, put-upon civil servants… Yeah, we're afraid that's not quite what's going down.
According to a bombshell report from ProPublica on Monday, nearly 10k CBP officers are part of a private Facebook group full of some pretty horrific — and possibly actionable — posts.
The group, called I'm 10-15 (the code for "aliens in custody"), is described as a place for both "funny" and "serious" discussions of what it's like to work in border patrol.
The page is full of jokes and memes about dead migrants.
Classy.
Recently there was a post about how AOC and other Reps had a visit scheduled to the compound in Clint, Texas.
Not only were there multiple sexually explicit photoshopped pics shared of Ocasio-Cortez, including one where she was felating Trump, there was also something of a threat.
A group member wrote:
"Let's start a go fund me for one CTX agent brave enough to throw a 10-15 burrito at one of these bitches."
Ick.
AOC wrote about the breaking story:
"This isn't about "a few bad eggs." This is a violent culture.

9,500 CBP officers sharing memes about dead migrants and discussing violence and sexual misconduct towards members of Congress. How on earth can CBP's culture be trusted to care for refugees humanely?

PS I have no plans to change my itinerary & will visit the CBP station today."
Then she made a disturbing point about the numbers involved…
"There are 20,000 TOTAL Customs & Border Patrol agents in the US.

9,500 – almost HALF that number – are in a racist & sexually violent secret CBP Facebook group.

They're threatening violence on members of Congress. How do you think they're treating caged children+families?"
That's not necessarily accurate, as the group is also for former CBP officers. But her point stands; it's not a small percentage.
(snip)
Who could do a job like that? What kind of person could stomach it??
AOC did go through with her visit. And she posted quite a lot about the conditions she saw:
"Just left the 1st CBP facility.

I see why CBP officers were being so physically &sexually threatening towards me.

Officers were keeping women in cells w/ no water & had told them to drink out of the toilets.

This was them on their GOOD behavior in front of members of Congress."
Disgusting.
She continued:
"Now I've seen the inside of these facilities. It's not just the kids. It's everyone. People drinking out of toilets, officers laughing in front of members Congress. I brought it up to their superiors. They said 'officers are under stress & act out sometimes.' No accountability."
AOC, a member of freakin' Congress, then had to push her way through to actually speak to some of the women being held.
When she got in, what the women told her was horrifying:
"After I forced myself into a cell w/ women&began speaking to them, one of them described their treatment at the hands of officers as 'psychological warfare' – waking them at odd hours for no reason, calling them wh*res, etc. Tell me what about that is due to a 'lack of funding?'"
She continued, as she moved to another facility:
"Now I'm on my way to Clint, where the Trump admin was denying children toothpaste and soap. This has been horrifying so far. It is hard to understate the enormity of the problem. We're talking systemic cruelty w/ a dehumanizing culture that treats them like animals."
After getting out, she wrote:
"CBP made us check our phones. But one woman slipped me this packet to take with me."
Along with the photo…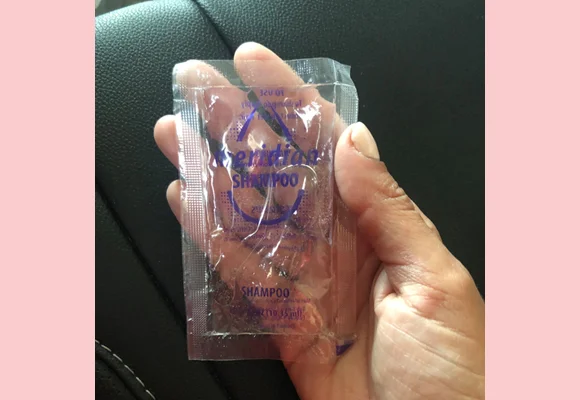 "It says "shampoo," but she told me that this is all they give women to wash their entire body. Nothing else. Some women's hair was falling out. Others had gone 15 days without taking a shower."
She concluded by sharing:
"What's haunting is that the women I met with today told me in no uncertain terms that they would experience retribution for telling us what they shared. They all began sobbing – out of fear of being punished, out of sickness, out of desperation, lack of sleep, trauma, despair."
AOC wasn't alone.
Congresswoman Madeleine Dean wrote:
"Just left the first CBP facility. The conditions are far worse than we ever could have imagined. 15 women in their 50s- 60s sleeping in a small concrete cell, no running water. Weeks without showers. All of them separated from their families. This is a human rights crisis."
Representative Joe Kennedy III wrote:
"Spent the morning in TX at Clint and El Paso detention facilities. Big takeaways —

1) @CBP was very resistant to Congressional oversight. They tried to restrict what we saw, take our phones, block photos and video. Atmosphere was contentious and uncooperative.

2) Facilities are wholly inadequate. Cells maxed to capacity, concrete floors…It felt jail-like. No way to keep a child or innocent human being. Group of 13 women from Cuba were in tears when we spoke with them

3) The entire system is broken, rotten and rife with abuse. And Trump doubles down on it despite the growing horror — child detention, metering, Remain in Mexico, threatened ICE raids. Every action he takes exacerbates and entrenches the humanitarian crisis at our nation's feet."
How is this our country??
We asked who could do this kind of job, who could treat people this way.
But what kind of country could treat people this way? For the crime of wanting to join us??
*see full story by Perez-Hilton