A couple who pointed guns at Black Lives Matter protesters outside their mansion in the US have received at least 50 offers to replace the AR-15 rifle seized by police.
Footage of Mark McCloskey, 63, and his wife Patricia, 61, was shared widely after they brandished guns at anti-racism protesters from the steps of their property in St Louis, Missouri.
The incident happened as some 500 people headed towards city mayor Lyda Krewson's home on June 28, chanting "Resign Lyda, take the cops with you."
Joel Schwartz, the couple's lawyer, said a search warrant was served on Friday evening and the gun Mr McCloskey was holding in the video was seized.
He told Forbes that a Missouri gun store, "along with 50 people have contacted them and offered to replace the AR-15", but they were "kindly" declining the offers.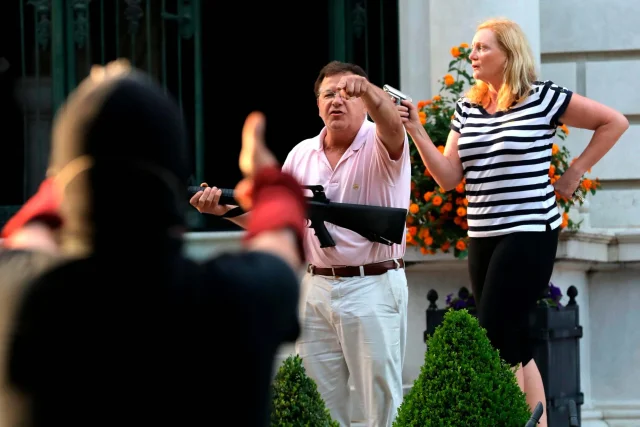 St Charles-based Alien Armory Tactical wrote on its Facebook page on Saturday: "To the couple that had this warrant served, please come on by our shop and we will gladly rearm you with a brand new ar15 for ( FREE )."
"We will gladly assist you with a replacement for you to protect your private property for FREE!"
The seizure of the gun indicates the investigation is progressing, Mr Schwartz said.
"We were hopeful and hoping that the investigation had been concluding," Mr Schwartz told Forbes, adding that he believes any charges against the couple would be unwarranted.
Under Missouri law, people who are in reasonable apprehension or fear have the right to take necessary steps to defend themselves, Mr Schwartz said.
Speaking about the march, Mr McCloskey told Good Morning Britain that, if he hadn't brandished his gun, his "house would have been burned".
"I do not regret my actions," he said. "I felt that if we did not take the action that we did, the house would have been stormed, we would have been killed, the house would have been burned.
"I'm still scared by it. You've got to take into context what this alleged protest was allegedly about and that was to ask the Mayor to resign for publicly exposing the addresses of people who opposed her policy or were in favour of defunding the police – whatever that means.
"These protesters – if that's what you want to call them – have now disclosed my private information to the entire world."
The couple, who both work as personal injury lawyers, say they are supporters of the Black Lives Matter movement.
*story by The Evening Standard